STATEMENT
This is the reason why the official Animals III band at www.animals3.com has changed its performance name from ANIMALS III to ANIMAL TRACKS
The band has suspended using the name Animals III for its shows since its last performance as Animals III in August 2021.

For the indefinite future the band will be performing their tribute to The Animals under the registered name of 'ANIMAL TRACKS'.
The band is doing this because legal action is being started against ex members of this band and their management who have assumed the Animals III name for their own use and are falsely claiming ownership of the name themselves which is causing confusion to the public. The ex band members in question were removed from the Animals III band in July 2021. Their illegal actions also include the making of a trademark application in bad faith which is currently being opposed.
The legal action that is expected includes a number of prosecutions for infringements of this band's own website's digital copyright content, physically and digitally passing off on the Animals III name for performances and online promotion, domain name abuse, reputational damage caused to the Animals III name, financial damage caused by false claims of ownership of the name, financial damage caused by intimidation and false threats of legal action made towards this band's promoters and venues, and financial damage caused by falsely claiming trademark registration of the Animals III name.
The name Animals III was devised and historically registered worldwide by Steve Hutchinson on 13th September 2014 including the domain name www.animals3.com for use only by this band. Two years of documented promotion took place until the proposed band members were finally assembled to perform the first concert as Animals III in 2016. This band has continued to perform as Animals III on a regular basis up until November 2021. A copy of the historic registration certificate is shown below.
Should any further damages or victimisation be directed towards this band by either the ex band members or their promoters, we reserve our legal right to revert back to the use of the Animals III name for this band's performances at any time.
We hope that this name change will help to avoid the confusion currently being caused to our fans when trying to book tickets for our events.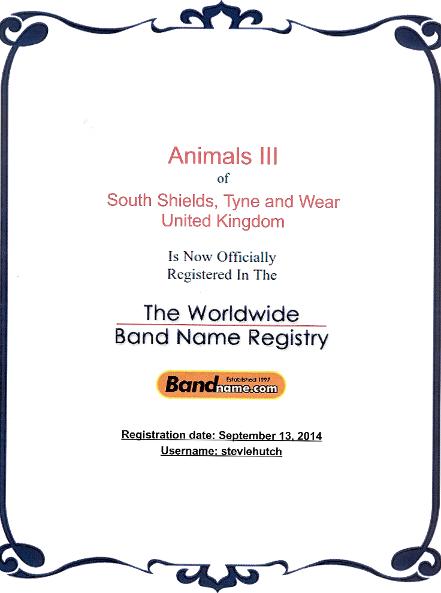 Certificate from British registrants Log Networks Limited t/a Bandname.com