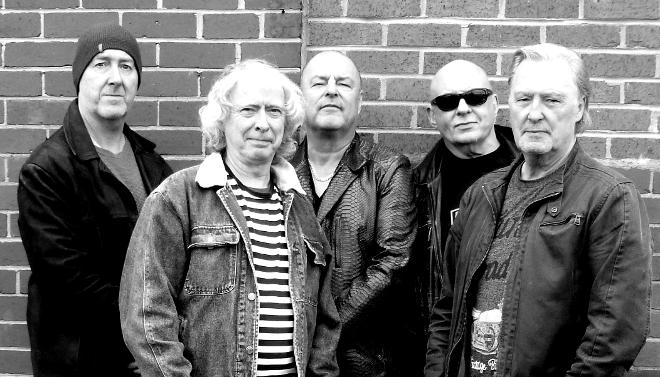 THE ANIMALS GREATEST HITS SHOW is performed by the band ANIMAL TRACKS and features (left to right):

Graham Hill - Steve Hutchinson - Graham Hunter - George Waters - Howard Baker
Direct from Newcastle upon Tyne in the UK, the home town of the original ANIMALS band, comes THE ANIMALS GREATEST HITS SHOW which is a tribute show performed by the band ANIMAL TRACKS who are currently performing
at festivals and venues throughout Europe.
The band features
two previous member of THE ANIMALS who were also members of
ANIMALS II which was
the highly acclaimed reincarnation of THE ANIMALS in the 1990's that featured original 1960's Animals band members Hilton Valentine and John Steel in the line up.
D
uring the 1990's
the band also recorded and performed throughout the World as
THE ANIMALS
. From 2014 to 2021 the band performed under the name of ANIMALS III and today it performs as ANIMAL TRACKS.

Following in the footsteps of the original 1960's band, the band is as authentic as it gets with its raunchy and powerful s
how featuring
all of the classic hits of THE ANIMALS, including the smash hits 'House Of The Rising Sun', 'We've Gotta Get Out Of This Place' and 'Please Don't Let Me Be Misunderstood', as well as many more legendary hit songs from that era.
Further information can be found on the band's website at www.animaltracks.uk
This is how the description of the shows should be worded in all advertising:
THE ANIMALS GREATEST HITS SHOW

A tribute show performed by the band Animal Tracks featuring previous members of The Animals and Animals II
Following in the footsteps of the original 1960's Animals band former Animals members Steve Hutchinson and Graham Hill continue to perform the hit songs of The Animals throughout the world as 'The Animals Greatest Hits Show' with their tribute band Animal Tracks

This band provides the same grit and authenticity of the original Animals band, and they have also kept the musical heritage of the band firmly rooted in the original Animals home town of Newcastle upon Tyne in the UK. The hits of The Animals include House Of The Rising Sun, We've Gotta Get Out Of This Place, Don't Let Me Be Misunderstood, Boom Boom, It's My Life, and many more
Band members:
STEVE HUTCHINSON (Keyboards and Vocals)
The Animals, Hilton Valentine's Animals, Animals II, and Animals III
(Steve was the longest serving keyboard player for The Animals)
HOWARD BAKER (Vocals)
Animals III

GRAHAM HILL (Bass Guitar)
The Animals, Hilton Valentine's Animals, Animals II and Animals III

GRAHAM HUNTER (Guitar and Vocals)

Animals III
GEORGE WATERS (Percussion)

Animals III
Years active:
THE ANIMALS (Original 1960's band) 1963 - 1966
HILTON VALENTINE'S ANIMALS 1992 - 1993

THE ANIMALS / ANIMALS II 1993 - 2000
ANIMALS III 2014 to 2021

THE ANIMALS GREATEST HITS SHOW 2019 to present day

ANIMAL TRACKS 2022 to present day

Band Management:
UKL Management www.uklmanagement.com
Band Website:
Animal Tracks: www.animaltracks.uk

Band Facebook Page:
The Animals Greatest Hits Show: www.facebook.com/animaltracksband

Download a PDF copy of PRESS RELEASE